So… John, this isn't the first time we've met and to be honest everytime we have met, it has always been for the right reasons. To enjoy a drive, go over a car or just like today, to have a conversation! So I'll try to keep things short, sweet and… ok I'm talking about myself again. Let's talk about you!

What is your first memory of Porsche, and did this moment influence the love affair you still have today?
I grew up in the UK during the 50s and 60s. Arguably a time of great British sports cars. The three I yearned for were the Lotus 7, Porsche 911S and the Ferrari Dino. The three I could afford were the Healy Frogeye, Cooper S and an old Lotus 7. My Ferrari dreams were shattered when, walking past a car showroom in Pymble in the late 80s, I saw a Ferrari 308 for sale and on impulse asked the bored salesman if I could sit in it. I didn't fit at all! That left only my Porsche dreams to fulfil.
In 1990 I drove a new 964 Cabriolet around Perth and I was hooked. That was the 2nd time in my life I could afford to buy a new Porsche but other priorities (children and family) came first. In 2008 I was living/working back in the UK and needed to buy a car which was my 3rd chance to tick that box. But which one? The 911S? Sorry! I wanted something a little more modern but also a 911 that looked like my boyhood memory. I considered a Turbo of some kind but I've always liked immediate response when I floor it. And rear wheel drive. (All wheel drive is for Europe) It had to be the 964 Coupe.
I finally found one that seemed as though it had been looked after, had had some restoration done and would be reliable enough for my daily drive. Unfortunately it had had a lot of 'RS changes' that I didn't want. In return for taking those bits off and replacing them with the, thankfully retained, older original parts I paid the asking price; well almost!.
My wife and I drove that car all over England for two years. Four adults on 150 mile round trips and a game 90year old mother sitting in the back many times. It wasn't trouble free but it wasn't disastrous either and I loved it. Driving up the M1 very early on a Saturday morning, sunroof open, windows down and an old LHD convertible Aston Martin to overtake at 140mph! I'll never forget it and it brings a smile inside and out.
What is it, about the drive or the design, what is it about 'the Porsche' that keeps you coming back?
Two words; engineering and silhouette. I remember reading somewhere in the 60/70s that the Porsche Targa was the most beautiful car ever designed. I've always quietly disagreed. It spoilt the lines of the car in my opinion. The same with the Whale Tail, which I loved as a young 'boy racer' on my dream 911S by the way. The 964's solution is purposeful whilst maintaining that lovely classic shape. But I'm biased!
How did Autohaus Hamilton become a part of it all?
The plan was always to ship the car back to Australia (Hence 2-wheel rather than All-wheel drive) . After going through all the paperwork with the Australian authorities from the other side of the world, I finally had my import licence. I delivered a recently fully serviced, gleaming clean car to the shipping company. The inspector remarked that it was in better condition than a five year old Porsche he'd just looked over. Three months later and a few negotiations with the bond warehouse's garage over baby seat mounts I was ready to collect my newly Australian registered Porsche.
The Genuine Porsche Cup 1 17" wheels had chip marks, the passenger side door and rear panel had a scrape mark and before I'd driven it more than 2k there was smoke billowing out of the rear! Not happy. I managed to get the car home with about a litre of oil left in the tank. It turned out the oil hose had split. I needed an Australian Porsche mechanic quick smart. With some research and a little luck I rang Autohaus Hamilton. Grant and Tim came round to have a look and the rest, as they say, is history. That was in 2010.
If you had to recall one moment during your current Porsche ownership that really cemented the relationship between car and man?
Picking the car up after Grant, Tim, Nathan and Gareth worked their magic and completed the list of things 'that needed to be done' last year. It was like driving a new car. The handling was different; stiffer and the engine revved so much smoother, especially in 1st. Something to do with the new distributor, I gather. No more battery drain, they'd removed the three alarm systems and the remains of the hifi setup of the previous owner and replaced them with ones that worked (Unless I leave the sidelights on all night!). And I have no excuse about speed mph/kph calculations as the speedometer is now in kilometres in a font large enough even for these tired eyes.
What's the next chapter for your Porsche story?
More drives?
Definitely! I can recall how disappointed I was that we couldn't go on the Snowy or Blue Mtns trips and how delighted I was when Sergio announced the Wiseman's Ferry drive followed by the Southern Highlands 2014 EOY drive (vfast caravan/convoy more like). My wife and I recently celebrated our wedding anniversary by re-enacting the Snowy trip. They have certainly added a few more memories that generate that in and out smile. I'm looking forward to the to-be-confirmed February drive. I wonder where…?
Maintenance?
If you own a Porsche 911 it comes with the territory. They are performance, highbred cars and do require maintenance. The harder you drive them the more they need but leaving them in the garage isn't what you own one for either. My 2cs. The bonus is you can do the shopping with your wife in one. But in Australia, not before you get the aircon working properly!
Upgrades?
Very tempting especially after you've driven behind a 2014 GT3 or two!
Track time?
Maybe, if I win a sizeable purse at Backgammon or Texas Hold'em. The main disappointment of driving here in Australia rather than in the UK is the driving environment. Obviously Australia doesn't have the huge country lane network that can be/is so much driving fun in the UK. And not necessarily breaking the speed limit whilst doing it. However, as remarked earlier, there are times when you feel you can be naughty and other times when you can sit on 90ish mph without a care, in dry weather on a motorway. We lived in Redhill just south of the M25 for two years. I still have a clean UK licence…and Australian, before you ask! But track time would perhaps tick the 'how fast can this thing really go' box.
so all of the above, I guess.
If you had to sum up Autohaus Hamilton and try to describe us to a friend (with minimal car knowledge), what would you say?
Autohaus Hamilton are a proven trustworthy Porsche shop. They take pride in going the extra mile. That example is set by the owner Grant Geelan who has personally held my hand while I've "Lived the Porsche".
In an ideal world, what is your dream Porsche… or do you already own it?
That's an interesting question and obviously hinges of $$ available never mind if you look ahead or behind. 356s are comparable in price to a 2014 911 Carrera S Coupe! However, my love is for the air cooled cars. I have two I'd add to my collection; a 356 and 911S but I'll never get rid of my 964. If I had the money and it was Australian legal I'd consider using it as a Singer base but it would be without the central petrol cap, the side oil cap would disappear under a similar flap my 964 has for petrol and the rear spoiler would lose the turned up nose! The silhouette is everything!
It's been a pleasure John, listening to your story just makes me try to connect the dots and line up where I think my Porsche story might be at current time. I'm actually sure every Porsche enthusiast reading this right now is filtering through their memories and putting together their own "Living the Porsche" story.

Some photos of John, Living the Porsche: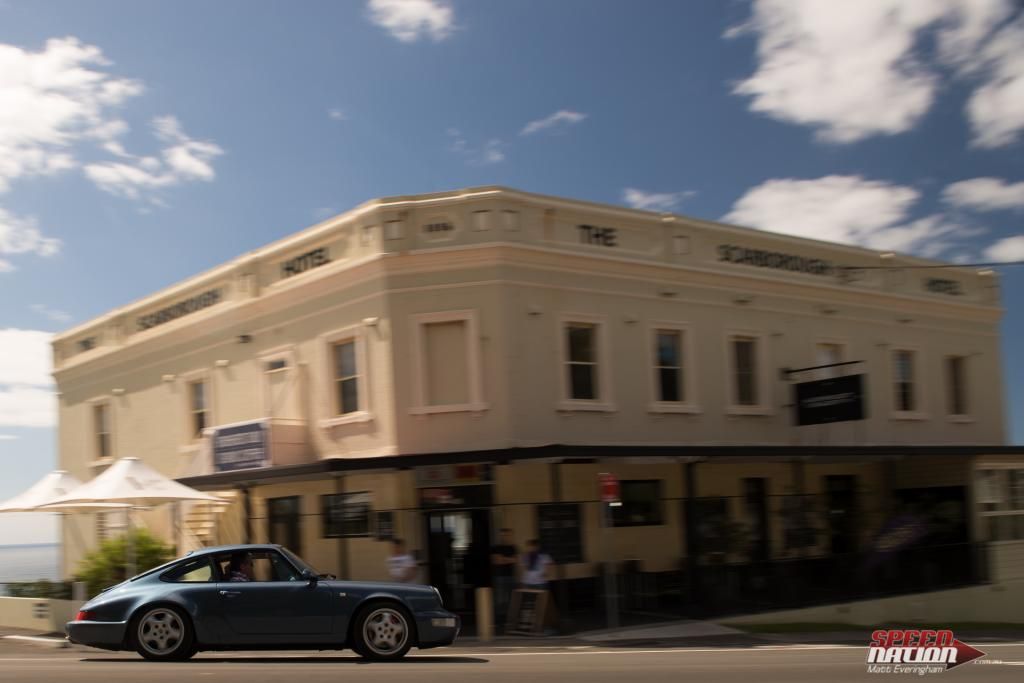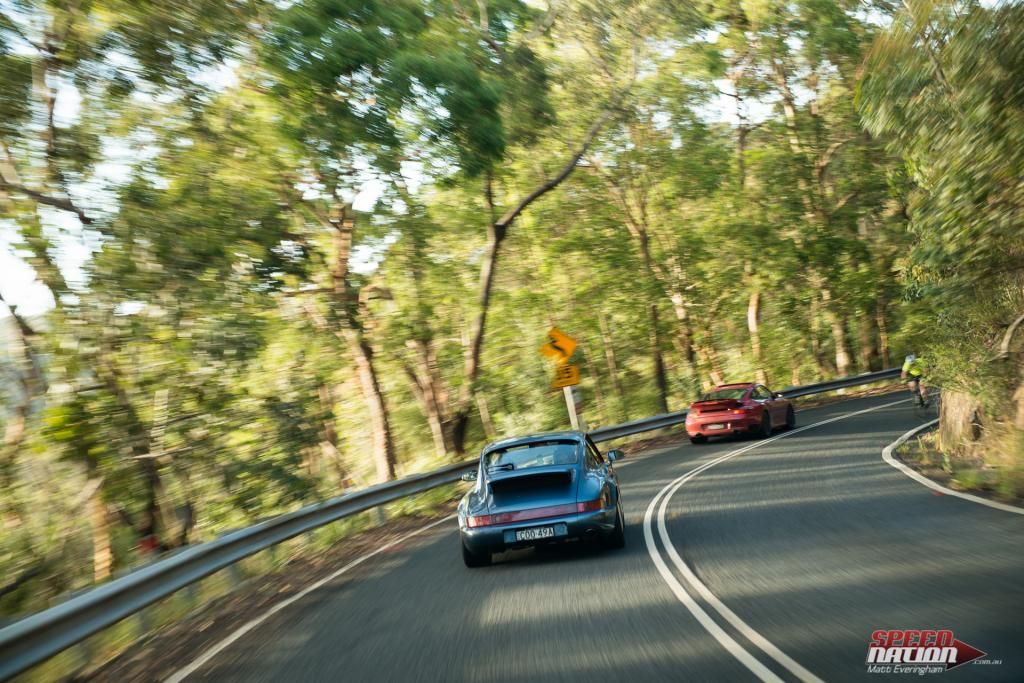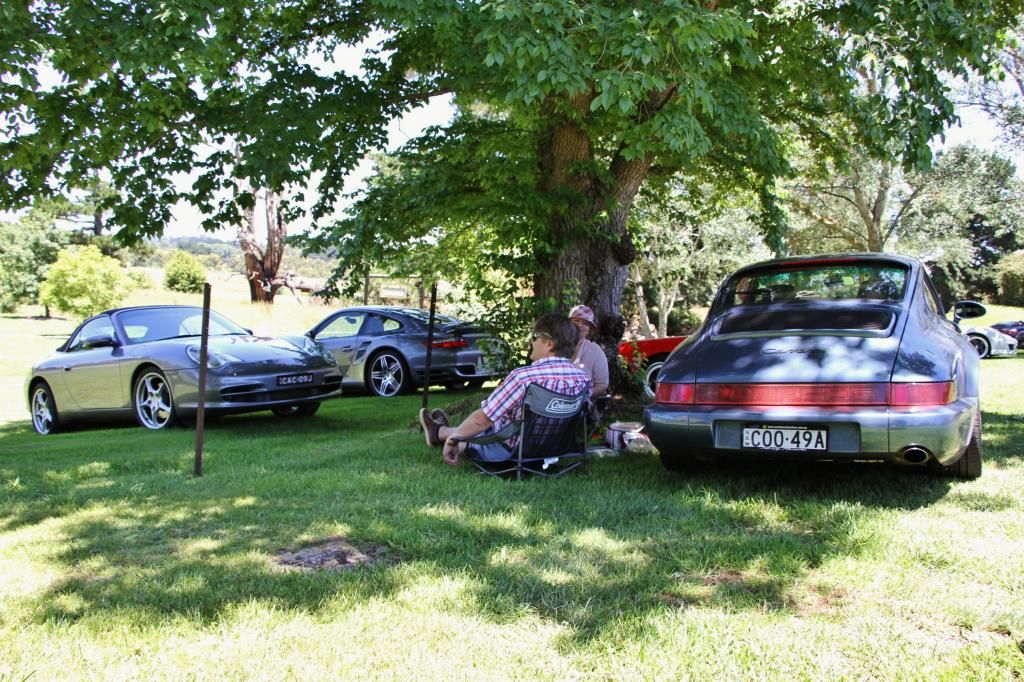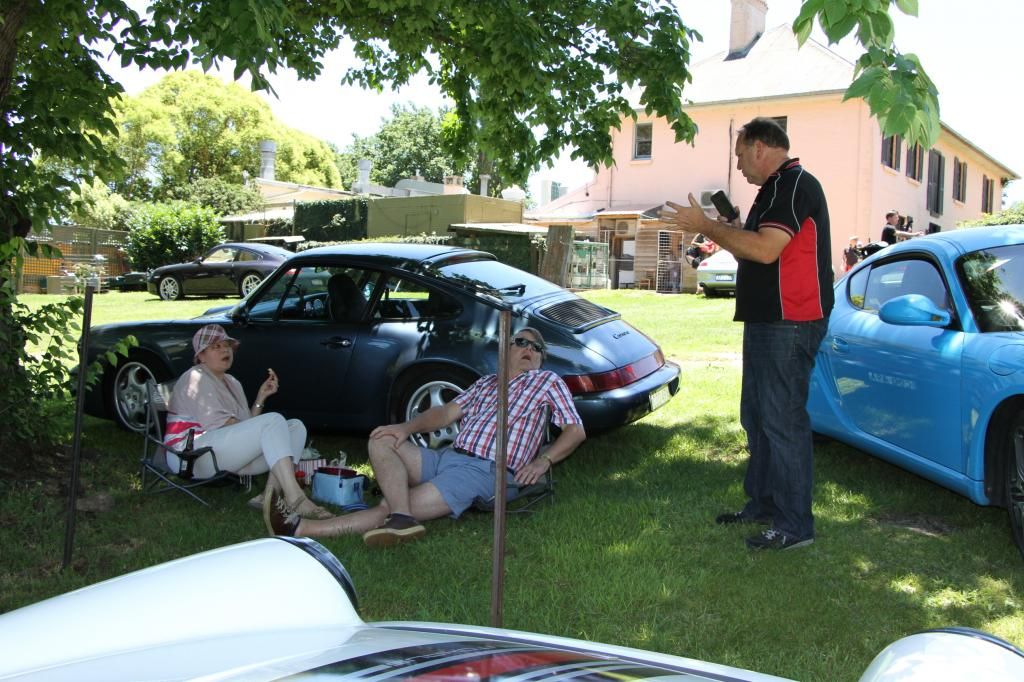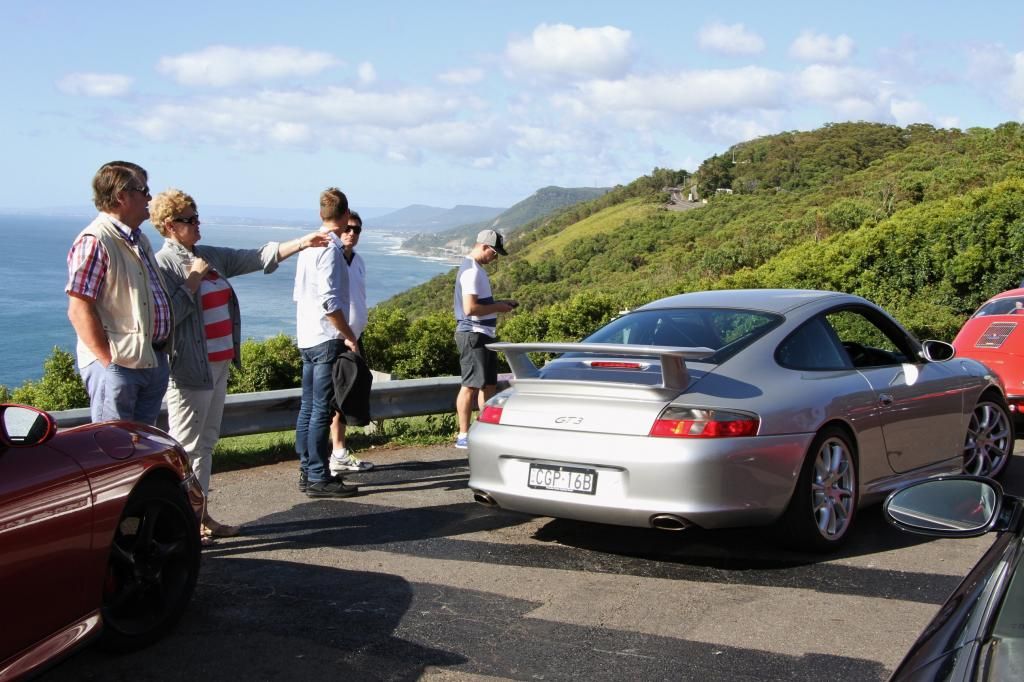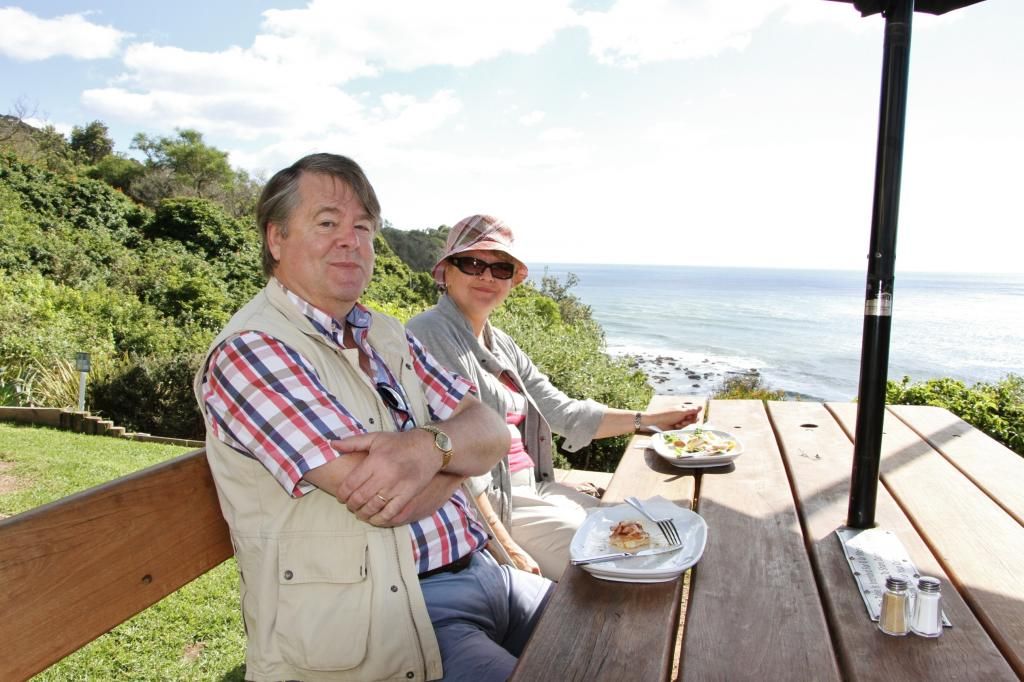 On behalf of Autohaus Hamilton, I'd like to quickly thank you John for being a great friend and a true Porsche fanatic. Your personal drive and passion you inject into the ownership of your 964 makes it doublely rewarding for us to enjoy it and maintain it along side you! We hope you continue Living the Porsche and embracing every moment you share with that tidy 964.
Photography: Matt Everingham
Sergio Capozzi

Liked that? You'll enjoy these too!
Enjoy other 'Living the Porsche' stories:
George's - Boost, a real 911 story!
Stephen's - Every Porsche has a story, this is Stephens.